The added value of in-person conferences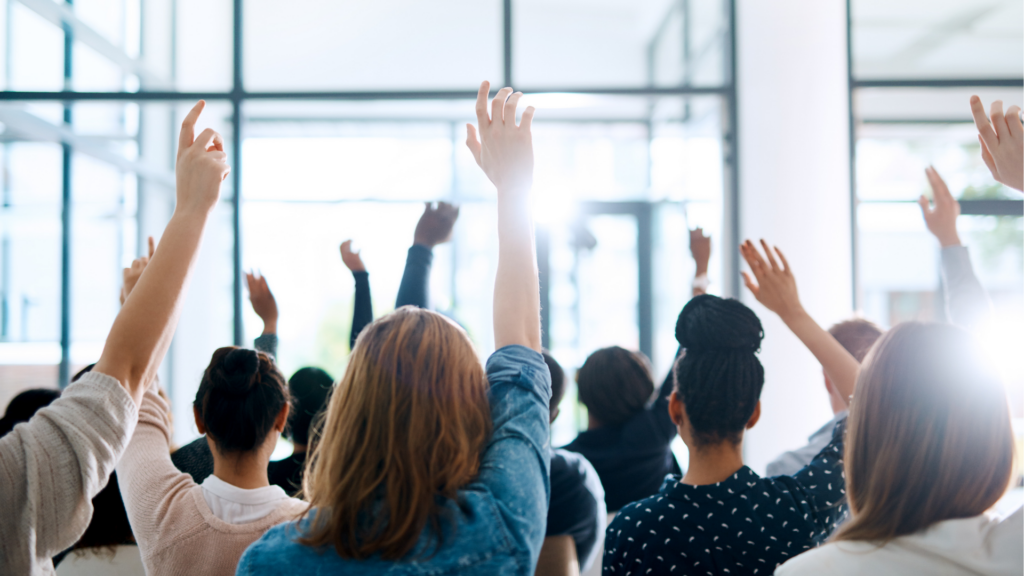 Last week was the bi-annual conference of the Dutch Society of Brain and Cognition (NVP) in Egmond aan Zee. Usually this conference takes place in December, but due to Covid-19 it was moved to April, which had the advantage that we had (slightly) better weather for nice beach walks. However, what was extra special for me and many of my colleagues was that it was the first in-person conference in 2.5 years time! After getting used to all the hickups of online meetings and presentations, it was refreshing to finally be able to meet colleagues in the field in real life again. Based on my experiences in this conference, I will share my view on the added value of in-person conferences in this blog. I think for me this comes down to three main aspects, that are probably all three related to each other: it is easy to get inspired, it allows for spontaneity and it creates a sense of social connectedness. Together, this makes that you can get most out of the conference!
Inspiration
A conference is the perfect place to get a good overview of all the important recent findings and cool research that is being done in the field. The NVP conference has a focus on research on brain and cognition and indeed, there were very inspiring scientific symposia, keynotes and poster sessions on for example decision making, prejudice and social cognition (see here some of the posters from our lab). It was nice to see how well-visited all the sessions were and how enthusiastic everyone was to discuss science! I also noticed how much easier it was for me to stay concentrated for a longer period on talks, compared to when I follow it on-screen. Therefore, it felt like I was able to get a lot more out of the conference. What also helped in this, was that it is easier to talk to people about their research on a more casual level, because you could just walk up to them after their talks (or at their posters) and start a conversation. Even though this sounds so simple, I actually missed that in our online lives – once the meeting was over and the zoom link was closed, you often just turned to your own work again and rarely started another zoom to have a chat with the presenter. Thus, the in-person conference was also a great way to get inspired by more informal talks with colleagues on research. A third reason that helped fuel the inspiration, was the fact that we were in a new environment, which helps in sparking creativity and in generating new ideas. For example, during the NVP conference, we could alternate the scientific program with sunny beach walks and for me that brought a lot more inspiration than the usual walk around the block of my house!
Spontaneity
During the Covid-19 pandemic, it was common to prerecord your presentation for an online conference. I know I am not the only one who restarted my recording multiple times to get the perfect video, to the point where it actually became kind of a normal question to ask: "how many times did you start over?". However, this also makes that there is less room for those small human mistakes that bring a bit more spontaneity into a talk and that keep the presenter more human. Giving a live talk sometimes requires on the spot fixing of situations, which is often accompanied by spontaneous jokes. For example, while the whole audience was listening in full concentration to a great speaker, suddenly Siri (on his Iphone) disturbed the presentation with its well-known comment 'I don't understand this sentence'. You can imagine the great timing and laughter of the audience. These jokes are better received offline, because people can immediately respond (instead of with a delay and muted smile) and all feel included on the joke. In general, I think it is just way more fun to watch human actions in real life than to watch it through a screen! Finally, not only the presentations become more spontaneous, but the interactions with others as well, for example when you walk out of the conference room and into the coffee break.
Social connectedness
These spontaneous interactions also ensure that you get to know your colleagues on an informal level as well, which leads to an increased feeling of social connectedness. For example, during the NVP conference, there was plenty of time to discuss who had the best skills on the bowling alley or to find out who was the outlier colleague on the dance floor. I also sensed this sort of connectedness during several interactive sessions of the NVP conference. For example, there was a Diversity & Inclusion session, where the audience was divided into small groups to discuss D&I issues they encountered and what could be important steps to take as scientific field. It was enlightening to not only discuss this with your own lab, but also hear opinions and experiences from colleagues from other universities. I think this connectedness is especially important because we need to connect different fields and scientists to answer the larger inter/transdisciplinary questions in society.
The future for conferences?
Even though I am very excited that in-person conferences are being planned again, I think we should not underestimate the advantages of online conferencesl: it is more flexible, it is easier to rewatch recorded talks in your own time and it is less expensive because you do not have to pay for travel and accommodation. But a possibly even more important argument for online conferences is sustainability: I think we all have a shared responsibility to reduce CO2 emissions and think about our planet. Luckily, the NVP conference was very easily accessible by train, but it is of course less sustainable to travel across the globe multiple times a year, just to attend a conference for a couple of days. However, I believe attending a conference in person has added value, especially for young researchers that are still building their networks. So what should the future of conferences look like? We discussed this dilemma in our lab as well. One solution that we came up with is to not cancel in-person conferences all together, but to choose one conference you'd like to go to and think about what the extra added value is compared to watching online, especially when it takes place at the other side of the world. For example, see if it is possible to combine the conference with a lab visit in a lab you are interested in, or plan to meet with researchers you'd specifically like to work with. In this way, it is possible to really get most out of the in-person conference!
Contact
ADDRESS
Erasmus University Rotterdam
Mandeville Building T13
Burgemeester Oudlaan 50
3062 PA Rotterdam, the Netherlands