Collecting MRI data during COVID-19: A crash course in flexibility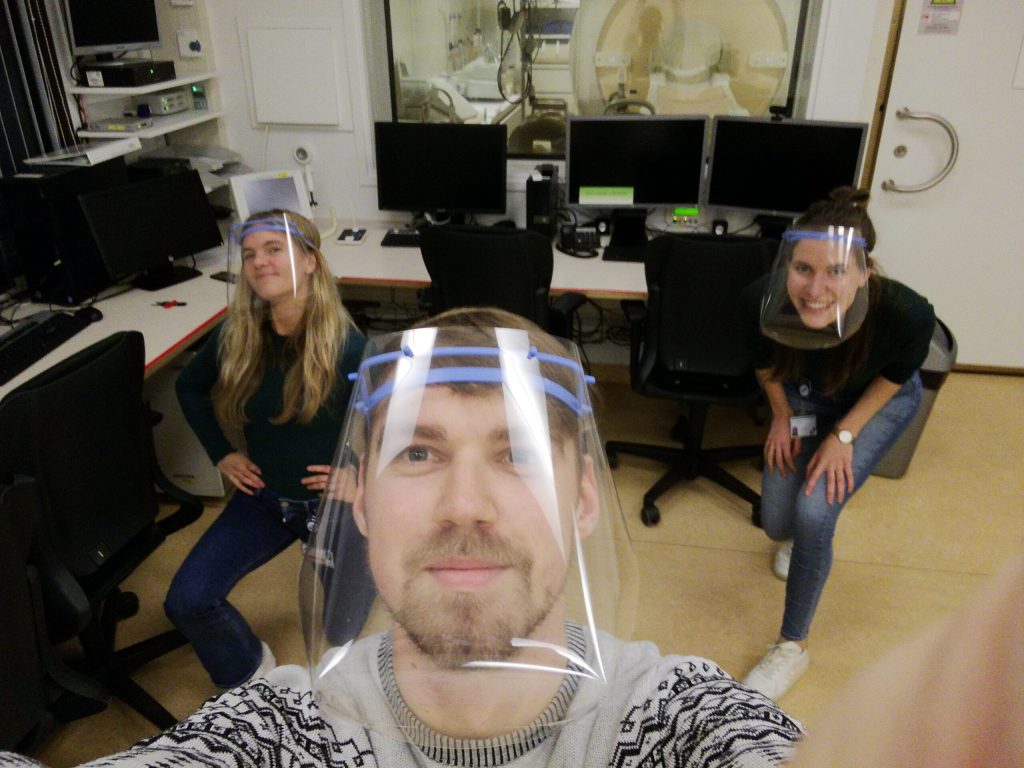 "Don't you feel embarrassed wearing a mask like that?" a 12-year-old asks while listening to the explanation of the MRI procedure. Strange but true: this isn't an uncommon question in my life nowadays. During a global pandemic in which the importance of science has become increasingly clear, we are lucky enough to be able to continue our MRI data collection, resulting in quotes like this. In this blog, I will explain some of the challenges and positive aspects of how we are able to collect MRI data in these challenging times.

My PhD project is part of the longitudinal twin study of the Leiden Consortium on Individual Development in which we follow 250 twins from seven to 13 years old. At the beginning of 2020, when COVID-19 started to invade our lives, I was in the middle of collecting the third wave of MRI data in this group. We had to pause our data collection, but were allowed to restart again in July. We optimistically called our restarted data collection the "post-corona" wave (not knowing that we weren't done with lockdowns yet, but we can always change the name to "post-corona_2.0_FV_ForReal", right?). Next, we adjusted our procedures to follow the guidelines of the hospital and RIVM. Of course, there were some things we had to get used to in our renewed protocol. For example, we have to be aware that we're wearing face shields all the time: I know I am not the only one who forgot I was wearing one while trying to drink my coffee… Also, we have to make sure we clean all materials after a lab visit, so I am now an expert in noticing EVERYTHING someone touches. Finally, we are constantly calculating how to keep our distance towards every other person in the room, which turns out to be an excellent training for our spatial insight.

However, collecting data in these times also comes with a lot of uncertainty. The number of cancellations has increased enormously, since no one is allowed to participate with even the slightest cough or running nose. It often happens that we start the week with six lab visits on the planning and only one or two of them can actually take place. On the other hand, we also have to be prepared to stand in as "back-up" in case one of our researchers doesn't feel well. This asks for flexibility, switching plans for the day and constantly being aware that the rules of the hospital might change. On the bright side, however, we are learning skills that will be valuable later in life as well. For example, I noticed that even though the uncertainty can lead to a good amount of stress, it is becoming easier for me to get over my frustration and come up with solutions. It helps that we have an amazing team of researchers who are always willing to step in and cheer each other up. When the uncertainty of whether we can continue strikes again, we have various coping mechanisms within our team that help to keep us going, such as sending hilarious memes in our Slack channel, laughing the stress away or baking cookies to bring to another scan session (we don't mind this coping strategy!).

Additionally, because of the uncertainty and extra effort we're putting into this data collection right now, we feel even more grateful for every successful lab visit and for the enthusiastic involvement of the participating families. Whereas collecting data in such a large longitudinal project can already feel like running a marathon in 'normal' times, our marathon during COVID-19 has a lot of obstacles along the way. So, we might not always go fast, but at least we're moving forward! And to be honest, my data collection day sometimes feels like the event of the week, being allowed to leave the house and seeing my colleagues in real life again. Sitting next to the MRI scanner, there is finally enough time to question your colleagues on things you've always wanted to know ("What is your favorite scanner sound?") and for good small-talk conversations that will be interrupted every five minutes when a scan is finished. And at the end of the day, I can go home with the always-inspiring quotes of participants in mind (e.g. "And what did you like most today?" – "The cookie during the break") and assure myself that I've been very productive.

Even though it can at times feel like a challenging crash course in flexibility, we are aware that we are in a unique situation collecting MRI data right now. When we are finished, we will have (MRI) data of our participants pre-, during and (hopefully) post-corona, giving us the possibility to study the effect of the pandemic on both behavioral and brain development. So far, we were able to collect data of 250 participants, meaning we are slowly moving towards the end. I can't wait to start diving into the data and tell you about our findings soon!
Contact
ADDRESS
Erasmus University Rotterdam
Mandeville Building T13
Burgemeester Oudlaan 50
3062 PA Rotterdam, the Netherlands